Farewell to Seawell, Part 1 – The Town Tour
We've played Animal Crossing: City Folk on the Wii for over a year and it's about time to call it quits. The collectibles that could be caught/bought/found, have been, and those that haven't, won't, even if we play through another year.
This video will be the first of four, and focuses mainly on the town's layout and how we [Seyon] have landscaped it.
[youtube id="3CqqNPLZf88″ align="center"]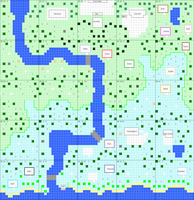 To the right is an overhead grid view of the town, painstakingly done cell by cell in Excel. It provides a clear view of the location, number, and type of tree in each acre, along with the location of buildings and major landmarks. The numbers in the top left of each acre give the number of original trees, current number of trees, and optimal number of flowers required for a "perfect" town. The X's represent trees that have been since cut down. Click the image for BIG.
The next videos will show off our museum collections, house decor, and the town throughout the different seasons.