In a recent Steam recommendation for Lost Planet 2, I said that it's "the best coop game you're not playing." Something we didn't know about when we first played through was the ability to unlock skins for other characters, in this case the Femme Fatales. These unlocks also included titles, weapons and over-the-top emotes. All this really adds to the replayability.
Almost every game these days has breast physics, but too few devote any time to butt physics. Excluding LP2, of course.

It's actually very simple. Things you will need:
An image editing program and basic "Photoshop" skills.
That irritatingly persistent OCD bug, whispering to you that you will never, ever have fun in this game until the GUI is perfect.
The original Minecraft GUI image files are located in C:\Users\[profile]\AppData*\Roaming\.minecraft\bin.
Open minecraft.jar with your archive program.
Double-click the gui folder, then drag-and-drop gui.png and icons.png onto your desktop. These two files contain the GUI and main menu images.
Edit those new pngs to your heart's content.
Once done, create a new folder named "gui" and move the edited gui.png and icons.png files into it.
Archive the gui folder as a zip file.
Rename the zip to whatever you want your custom texture pack to be called, e.g. "wolf's custom gui."
Move this zip into C:\Users\[profile]\AppData\Roaming\.minecraft\texturepacks.
Make sure to select your texture pack in the main menu once in-game.
This method can be used to change other texture elements as well.
* AppData is a hidden folder, it can be made visible through Folder Options.
I just started playing Just Cause 2 but already have close to a dozen mods loaded. There is a decently sized community with some really nice mods. Sadly, the one I was looking the most forward to was broken by a recent update: the Bolo patch allowed multiple strong ropes, which really opened up gameplay.
When we stopped playing Warhammer Online, I didn't post anything on it, largely in part because I was so done with the game that I didn't even want think about it anymore. I recently uploaded my WAR screenshots to the newly upgraded Gallery 3, which reminded me about the one thing I did like about the game: late-game armor.
Overall, armor looks and designs were poor in the game.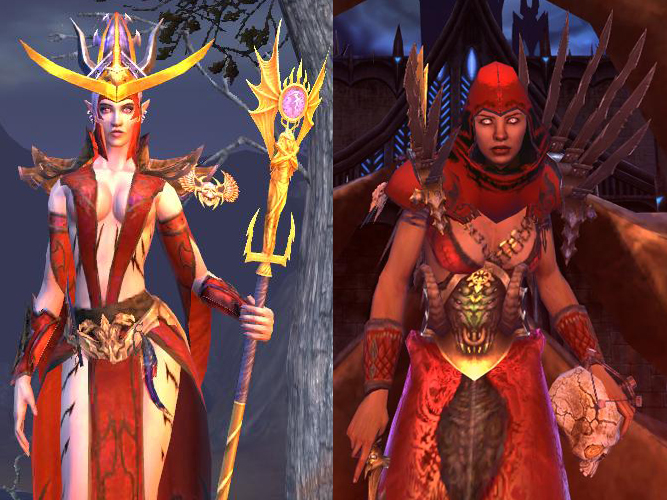 They were mostly tiered so that everyone at a particular level looked the same. I never found any armor that I liked for my Sorceress; I actually liked some of the Zealots early armor more than I did with much of the later armor; my Witch Elf's armor was hot all the way through, if for no other reason than her armor usually was no more than a bikini; but my favorite armor was my Black Guard's.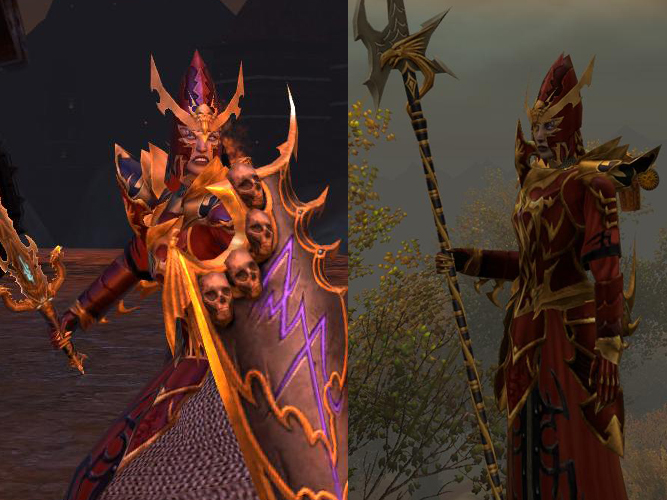 When I started playing the game, I knew nothing about the Warhammer universe, so when Mythic said that the Black Guard was not going to be one of the player classes, I was indifferent. That was until I saw a fully decked out Black Guard NPC in-game. I wanted to play one and before too long, they added them in the game. Days before we stopped playing, I finally got the last couple of pieces of armor to complete the look. My armor was the same as that NPC's, only colored different.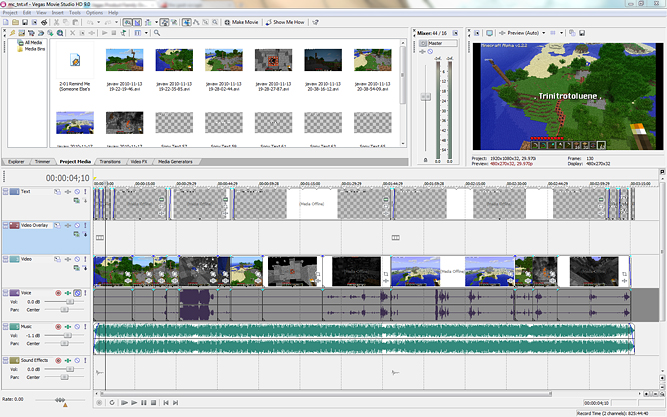 As seen from the previous posts, we've been churning out videos like crazy. The editing tool that lets us do this is Sony Vegas Movie Studio HD 9. At $44, I've found that it is the affordable AND intuitive alternative to:
Windows Movie Maker, which is free but overly simple,
inaccessible professional versions such as Adobe Premiere Pro CS5 ($799) or Sony's own Vegas Pro 10 ($679),
the almost-sorta comparable Adobe Premiere Elements ($99) which is excessively non-intuitive.
We promise this will be the last TNT video in Minecraft Alpha. For a while.
I think I enjoyed making this one the best; slow motion isn't the only effect that makes things cool.
Our continued adventures with TNT. This video captures the entire half an hour process, sped up into a happy five minutes. Stay tuned for more.
Here's us screwing around with TNT in Minecraft Alpha before the multiplayer damage bug is fixed (which may be tomorrow). Also, these explosions need more Jerry Bruckheimer.